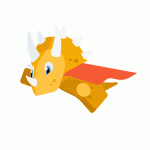 Dinolingo is an online language-learning website and app for kids that offers 30,000 language-learning activities in 50 languages. It is recommended for children between the ages of 3 and 14.
Dinolingo offers monthly and annual online subscriptions through its website and mobile apps. The majority of the subscribers are families based in the US. Dinolingo is also used by 100+ schools.
Dinolingo is owned by Dino Lingo Inc., a privately held company registered at 30 Broad Street, 14th Floor #1454, New York, NY 10004 USA.